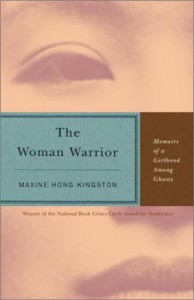 What drew me to this book was a description of the way the author weaves Chinese folklore into her own story; although I am not very familiar with Chinese mythology, I do appreciate writing that makes use of the universal truth of story, and that is precisely what this book does.

Although the book is a collection of memoir-esque essays, Kingston's inner life is so rich that the line between fantasy and reality becomes blurred. While many introverts live inside their heads, Kingston has the additional experience of living on the "outside" of two cultures -- as the first child born to Chinese immigrants, she is an outsider to American culture as well as the culture her parents come from, so that stories of China meld together with the country's mythology until it all becomes something strange, distant, and unreal, yet achingly relevant in every moment for the way it has shaped her world.

Kingston's mother refers to all foreigners as "ghosts" -- and after moving to America, she continues to see the Americans around her as foreigners. Because of this, Kingston, too, refers to Americans going about their lives as "ghosts" -- delivery man ghosts, schoolmate ghosts, teacher ghosts. Although the reader knows that these people are not really "ghosts," the power of language is such that even the most realistic renderings of memory come out with a veneer of surrealism that makes for a haunting reading experience.

And if it is not clear by now, I will say it explicitly: Kingston's writing is absolutely gorgeous. It is vivid and evocative, whether she is writing about her dreams of being Mu Lan or her elderly mother's insistence that she move back home. Although the mythic overtones were what drew me to the book, the essays that impacted me most were the character examinations of Kingston's mother, especially "Shaman," which is about her mother's time in medical school and "At the Western Palace," about the mother bringing her aunt to the U.S. and, not fully comprehending cultural differences between the U.S. and China, insisting that the aunt can demand that her former husband take her back after he's remarried.

This is a beautiful, nostalgic, sad, haunting memoir -- and one that I will be holding on to.